The latest release of IBM Planning Analytics Workspace (Release SC57) offers an avalanche of new functionality & features: a game changer for those looking for improved visualizations, fully integrated forecast prediction algorithms, guided planning and much more.
Why is ACG excited about the latest release? Check out these great new features…
Predictive Forecasting
This is arguably one of the top new features from Workspace SC57. SPSS (Predictive Analytics), Watson (AI) and Planning Analytics are now fully baked together, offering seamless integration of modern day predictive analytics. No longer will users have to export data to other applications to generate forecast predictions and then re-import them. By leveraging historical data from within the Planning analytics model, Workspace applies eight different exponential smoothing algorithms, and the most accurate can be applied to existing members and dimensions.
With Watson and SPSS, the most powerful AI and Predictive Analytics software on the market, it's hard to argue on the reliability of your forecasting data.
Guided Planning
Plans and Applications is a new feature that allows planning owners to create & manage their own custom applications to help guide planners through each step of the process. This is IBM's first major release of a workflow application since 'Contributor'.

Now with Plans and Applications, creating an application is easier than it has ever been, with simple step-by-step instructions, planning owners can easily configure email notifications, organize due dates, track progress of planners, create interfaces for end users, plus manage and control access.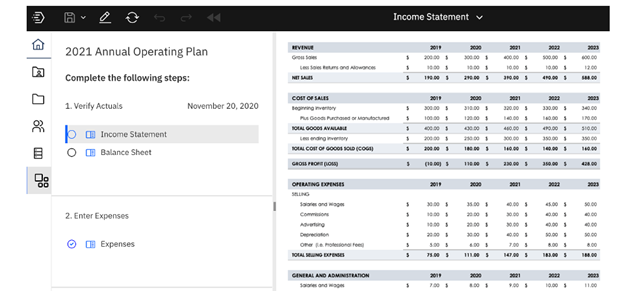 IBM boasts Plans and Applications is a time and cost saver compared to 'Contributor' requiring less development work: the upgrade to Workspace SC57 is in itself money well saved.
Navigation & Visualization
IBM have invested heavily in Workspace over the recent years as its primary user and developer interface. Now with Workspace SC57, it promises a fuller, richer interface with significantly improved navigation.
Aside from IBM's introduction of the new default 'Carbon' design to better align with its other products on the market, check out these new features…
New Visualizations – Chart types such as Waterfall and Bullet charts are now included in the latest Release.
Drag & Drop Capability - Starting with a cube visualization is now optional: once the chart type has been created, users can now drag and drop dimensions, sets and individual elements from the data tree into 'Drop Zones' within the chart itself.
Navigation Toolbar – In the past users had to navigate back to the main landing page each time they needed to access other folders and reports. Now users can navigate to any other reporting asset directly from the navigation toolbar.
Improved Dashboard – Users now have greater customization over their Books. Users can select individual colors from the new RGB palette, align multiple visual objects at the same time and get pixel perfect dashboard layout precision.
In summary, Workspace SC57 is a major new release and delivers more than one would expect. It certainly packs a meaty punch with its first seamless integration with SPSS, Planning Analytics and Watson combined. Users can apply modern Time-line statistical analysis algorithms without having to resort to heavy coding and system integration.
Workspace SC57 is now available for local installation, with SaaS being offered later in October 2020.
For the IBM blog on this release please click HERE