Effective October 2021, all IBM PA Cloud Customers will have access to the IBM Cognos Analytics on Demand offering at no additional cost. New IBM PA Cloud customers will have IBM CA on Demand automatically as part of their provisioning, existing customers will have to request IBM to add it as part of their annual subscription renewal.
IBM Cognos Analytics on Demand is a user-friendly startup offering that provides many features of the full IBM CA toolset. It will provide an integrated and unified environment for deep analysis of data form various data sources. The tool will further enhance the reporting and dashboard capabilities that are available in IBM PA Workspace.
The specific list of features available in IBM CA On-Demand vs other editions is as follows: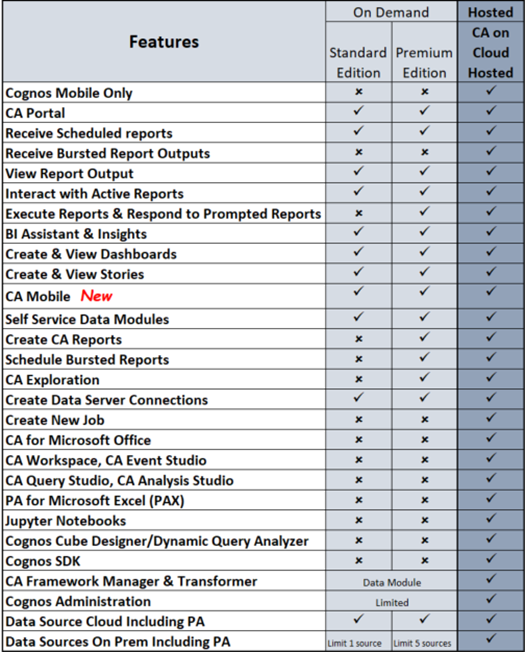 Some of the key benefits that the offering will provide are the following:
Simplified Data Modeling and Integration with Outside Data Sources.
IBM CA On-Demand has a modified data-modeling tool that creates data modules between two data sources. The module provides basic data modeling such as creating joins, understanding the data impact of the joins, changing the cardinality of the joins between tables and can create a new custom table. These new data sources are then ready for report creation.
Compare Data from Different Data Sources
Cognos Analytics (CA) On-Demand provides an easy way to report and explore data from different data sources. On Demand is a scaled down version of the full CA offering but is powerful enough to provide reports, analysis, presentations and dashboards. Not all data sources that are available in CA on premises or on Cloud can connect to on Demand, flat files (csv, Excel, etc.) are easily uploaded without the need of IT staff. The application does allow for connectivity to IBM Planning Analytics (PA) cubes if they are on a cloud instance. In PA, you can create a dashboard from cubes in your instance. In CA, you can quickly combine data and present data from multiple sources on the same dashboard, report or story.
Automate Data Analysis
Watson AI is embedded in CA On-Demand; the best example of AI is the data exploration. After selecting a data source, define the data point to determine the data relationships. A relationship interactive image and a narration of the relationship of that data point to the other points within the data source is created. This provides insight into the data that may not always be clear in a graph or report. These narrations can be saved (pinned) to add to dashboards or stories.
Self-Service Interactive Dashboards
The dashboard module also contains Watson AI for assistance with the most impactful visualizations based upon the data. Dashboards can be a combination of multiple data source that provides decision-making guidance. Leveraging the exploration tool, it can also contain the narration of specific data points.
Visualize your Data and Create Stories that Tell a Narrative
The Stories module brings the presentation capabilities of PowerPoint as well as the reporting capabilities of CA. Combining the two makes for extensive presentations using animation, graphs, tables, reports and narration. The data within the stories updates when the data sources updates. Stories also allows the use of multiple data sources to use in a single presentation.
Drag and Drop Your Data for Instant Analysis
CA has drag and drop capabilities it is as easy as dragging an Excel or .csv file to into the application. The data uploads into the application and is immediately available to report from, explore or to use in other CA modules. The data and metadata format saves in the application for future use. To update the data, upload the updated file to the system and all reports and graphs that use that data will update upon opening.
Built-in Data Governance
Each of these tools allow for interchangeable widgets of data to use in one of the other modules. This allows for the same data to be presented across multiple reports, utilizing data governance best practices.
The IBM CA On-Demand Offering is available immediately at no extra charge to all existing IBM PA Cloud Customers. This means all current PA customers will get one CA license for every one PA user license. Current PA Cloud customers can request their CA licenses mid-term, or at the time of their license renewal. New IBM PA Cloud customers will get the CA licenses automatically.