ACG Implementation Methodology
A combination of traditional Waterfall and Agile methodologies that facilitates effective solution delivery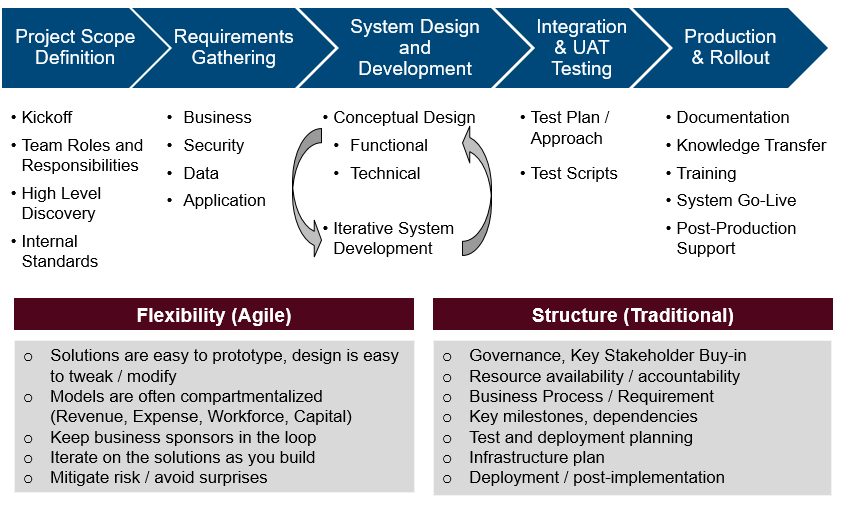 ACG Implementation Methodology
When our customers do not require a specific methodologyACG's utilizes a formal project management methodology called ACG Implementation Methodology (AIM). The AIM methodology was developed and refined by ACG over the past 20 years from our extensive experience delivering successful business systems to Global 1000 customers. The methodology leverages a rapid prototype approach with ample input from both the information technology and the business community. This approach insures there are no surprises when the final system is delivered and rolled out to the organization.

The major phases of the ACG Implementation Methodology are outlined below:
Project Strategy
This phase identifies the tasks required to develop all planning deliverables. This maps to our clients' Project Charter, Scope of Work, Validation Assessment, Validation Plan, Qualification Assessment, Qualification Plan, Project Plan, Risk Assessment Plan/Log, and Selection of Business Intelligence tool(s).
Analysis, Design, and Construction
This is a set of parallel processes to accomplish the design and development of the actual Business Intelligence and Technical and Technical Infrastructure components. This maps to our clients' User Requirements, Functional Specifications, Design Specifications, System Build and Configuration, IQ, Unit Tests, and Traceability Matrix.
Integration Testing
This phase identifies the end-to-end testing of the overall Business Intelligence solution. This maps to our clients System Test, Integration Tests and Operational Quality.
Production Deployment
This phase identifies the pre-rollout testing that occurs on the Production platform. This maps to our clients Production Quality or User Acceptance Testing (UAT).
Production Rollout
This is the actual effort involved to deliver the BI solution to the end users. This maps to our clients' Technical Knowledge Transfer, End User Training, Transition Plan, Support Plan, and Release to Production.